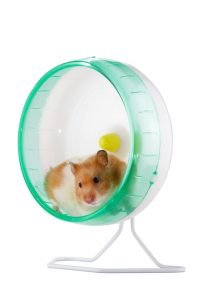 Do you ever feel like you're inside a hamster wheel, spinning straight to nowhere, fast?  When it comes to getting people to stop scrolling and take notice of realtors online, it seems they're trying everything possible but no one is listening! Why is that?
Grabbing consumer's attention these days is harder than ever before. They're connected on multiple devices all hours of the day, but they're being bombarded with more pop-up ads and irrelevant content that seem to generate more frustration than interest. Many realtors online are struggling to do it all on their own and end up feeling like they're spinning out of control. The goal isn't necessarily to do it all but instead, to deliver the right information at the right time. Enter: Micro Moments for Real Estate.
Micro Moments for Real Estate
The micro-moment concept, introduced by Google, is a way to capture that instant when a person is open to discovery. It compresses the time between exploration, search, discovery and conversion. And since Google reports that 60% of users now make purchase decisions more quickly than they did just a few years ago, when someone's looking for information or searching for services, you need to deliver.
Four Distinct Moments Realtors Should Know Online
Google identifies four distinct moments realtors online should know:
I-want-to-know moments:

Curiosity can be triggered by anything and satisfied at any time. This is the moment when someone is exploring or researching, but not yet in purchase mode. They want useful information and even inspiration. Not the hard sell. Provide the answers to their home improvement questions before they even have a chance to ask. Give them the inside scoop on real estate trends to position yourself as the expert. And offer inspirational content as they venture through their homebuying journey.

I-want-to-go moments:

"Near me" searches have grown over 2x in the past year alone. People are searching for a local business or service; being there means getting your physical business in their consideration set in that moment. Go beyond your typical "two-bed, two-bath" Facebook posts and capture clients with information like local hot-spots and neighborhood tour videos. People want to find what they're looking for. Quickly. Lead people to their answers and they'll be converted into customers a lot faster.

I-want-to-do moments:

Searches related to "how-to" on YouTube are growing 70% year over year. Consumers are seeking instruction for just about everything, from "how to boost curb appeal" to "how to sell your house faster." Providing the right content is key to capture these "how-to" moments when consumers are looking for help or trying something new.

I-want-to-buy moments:

This one is big. Clients are ready to make a purchase, but they need help deciding how to buy. You must be there with the right information to seal the deal or you could lose the deal. If you can anticipate consumer needs across the full journey of the home buying or home selling process, not just focus on the "buying mode," they're more likely to come back to you when that moment arises in the future.
Each micro-moment represents a distinct consumer action, and together they cover the full range of consumer needs across all stages of their purchasing journey.
Discover Micro Moments for Real Estate with Relevant Content
It shouldn't come as a surprise to hear that digital content needs to be industry related and relevant to the decision-making process. Today's consumers rely on content to provide relevant information that will help them make important decisions…you know, like buying a house. In the end, that's the only way you'll be able to capture attention and stand out from the crowd.
Struggling to stand out? Get off the hamster wheel and let content from Post Café help you create micro moments for real estate.
Started today; call us at 732-218-9377 to learn more!