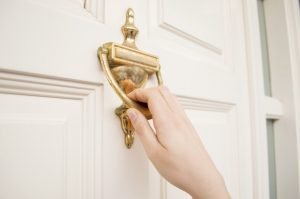 Getting more homes in front of customers is a critical first step for realtors to close a sale. But as other businesses also experience, new customers usually don't just come knocking on your door (that is, before doing their own research first). The National Association of Realtors recently revealed that 9 out of 10 home buyers use the internet as their primary research tool to house hunt, so why not meet them there with your awesome and credible content creation?
9 OUT OF 10 HOME BUYERS USE THE INTERNET AS THEIR PRIMARY RESEARCH TOOL TO HOUSE HUNT
It's no surprise that a strong online presence is the core of a successful marketing strategy; do it right and you'll attract those new customers (and get them to literally come knocking at your door).
It's a process. That process is called content.
Credible Content Creation
Say "blog" to most realtors and you'll probably get a confused stare that implies you just said a naughty "four letter word." Why are blogs so scary? The truth is most professionals (not just real estate agents) would rather help their customers in person than write about it.
But since the Harvard Business Review tells us that, "brands are no longer merely peddling products; they're producing, unearthing, and distributing information. And because they do, the corporation becomes not just economically important to society, but intellectually essential as well." And because studies show us that 70% of people say they'd rather learn about products and services through content than through traditional advertising there's no better way for realtors to showcase their expertise and provide valuable information to buyers and sellers than through credible content.
70% OF PEOPLE SAY THEY'D RATHER LEARN ABOUT PRODUCTS THROUGH CONTENT THAN THROUGH TRADITIONAL ADVERTISING
Educate them on market trends, offer DIY tips, and inform them industry news. Become their trusted go-to resource.
Credible Content Creation Enhances Connections
Not only is content an incredibly effective way to differentiate yourself from the competition, you have the chance to really connect with your target audience. How? Regularly share all of the content on your social networks (Facebook, Twitter, LinkedIn) and use it to meet new customers and start conversations. Since 92% of buyers and 81% of sellers will work with the first or second agent they meet, it's a critical opportunity you simply cannot miss.
92% OF BUYERS AND 81% OF SELLERS WILL WORK WITH THE FIRST OR SECOND AGENT THEY MEET.
BE THAT AGENT.
Social media is a powerful way to connect with buyers and sellers and earn valuable trust but sometimes you just need a little inspiration to get the marketing juices going. And the best way to get started is by establishing a solid plan. The social experts at Post Café have created a simple spreadsheet (and, it's FREE) that you can use as a guide to plan all things social media and content marketing for real estate.
89% OF REAL ESTATE AGENTS AND BROKERS USE SOCIAL MEDIA TO PROMOTE THEIR LISTINGS.
ARE YOU?
Grab your free downloadable template of a Social Media Content Calendar for Realtors today!