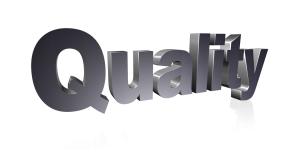 Most small businesses use social media in hopes to boost sales. But many aren't doing it correctly and end up just adding cacophony to the ever revolving social media feeds. It's important to emphasize quality, not quantity to ensure effective results. Social media, when done correctly, can help build trusting relationships with new and existing customers….driving them to your website and ultimately make a purchase.
So, how do you stop the needless noise and cut through the chatter to actually boost sales with social media? Let's start with the basics…(besides, your competition is already doing it).
Just get started. Create a business page with a professional profile and header image that portrays the voice of your company.
Scope out competition. Check out what your industry is posting about and who they're following.
Post. Post often and continue posting. When and how often you post is important and differs depending on what channel you're posting to.
Be the industry expert. Posting content that makes you out to be the expert is valuable to gaining customer trust. Offer enlightening tips and insight to inspire and educate your audience.
Share the love. When you share content from another expert in your industry, you're not only giving them credit, you're also opening the exposure doors to their followers as well.
Don't be too pushy. Follow the 80/20 rule. 80% of your content should be informational based; 20% can be promotional.
Connect. Make the time to connect with your audience. It's not just a one way street…start the conversation by friending and following other profiles that match your client demographics.
Post the right content. Create content that offers value and has a clear intent; show and tell…don't always sell.
#Hashtag. Hashtags give you more reach and also helps track your mentions. It's also a great way to get involved in conversations.
Get personal. Share who you are and what your company's all about to build trust…trust is the foundation of selling on social.
Remember a call to action. Add a link and/or a call-to-action to every post.
Add visuals. Photos and visuals help your content pop and increases engagement.
Engage. Find out where your target audience is spending their time…and meet them there. Create trusting relationships through consistent engagement.
Cut through the Chatter
Connect with your audience on a whole new level. Post Café has the finest quality content for you and your business to communicate with customers. It's more than a blog. It's a real social content miracle that will help you cut through the chatter and land sales. Contact us today to learn more.