It's Ok to Be a Sheep… Just Be the Black Sheep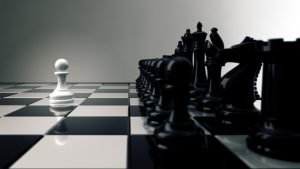 How do you stand out from the 40 million other active small businesses crowding for attention on Facebook? Considering the fact that out of these 40 million (this number keeps growing by the way), only 2 million of them are actively advertising, which means your chances for creating a memorable presence on Facebook is easier than you think.
Following the best practices that the many successful brands have demonstrated is the smartest way to make your Facebook page start working for you. While we highly recommend copying the strategies of some of Facebook's pioneering brands, it's still important to put your own twist on things – be your own brand.
Uncertain how to proceed? Read on to find out how you can make a statement today.
Start Using a Custom URL
Customizing your Business Page can immediately help you stand out from your competition on Facebook. Start by claiming your Facebook page URL with your small business' name to optimize search engine rankings and give it a cleaner and more memorable look than a long string of random code.
It also gives you an easier opportunity to promote your page (for example, a flyer might read, "Find us on Facebook at www.facebook.com/socialpostcafe" rather than, "Find us on Facebook at www.facebook.com/qwert1234uiop".
Dress the Part
Your Facebook page should be memorable and accessible; giving people a reason to come back. Create striking profile and banner image that matches the voice of your branding. Whatever you do – DON'T LEAVE IT BLANK.
Your cover photo is one of the most important pieces of your page, you have to make it awesome. If you don't have a killer photo to use, get creative. There are tons of ideas out there for ways to make an interesting, yet relevant profile or cover photo. Try this cool tool called Tricked Out Timeline, it's one of the quickest & easiest ways to create unique Facebook covers!
Ask for What You Want
Set up a call-to-action button. Call-to-action (CTA) buttons only take a few seconds to create, but they can increase inquiries in you by a decent amount. Click on "Add Action Button" where you'll have the option to choose from the following:
"Contact Us"
"Book Now"
"Call Now"
"Send Message"
"Use App"
"Play Game"
"Shop Now"
"Sign Up"
"Watch Video"
"Send Email"
"Learn More"
Give Your Facebook Page Personality
With so many small businesses competing for space in the News Feed, you might feel like playing it safe is your best option. But if you don't experiment with different styles of posts, your Facebook page will end up looking like a ghost town.
Figure out who your audience is and what they respond to most. Humor? Science and Facts? Emotion? Pass everything through that filter. Make your online presence professional, yet wholly you. Engage with fans like they are real people (hint, hint: they are), in your real voice. They'll respond better – AND it will be easier for you and/or your social media manager(s) to maintain.
Engage Users
Facebook made some changes in their algorithms that directly affected businesses and squashed their exposure on the newsfeed. People won't just see your posts because they liked your page at one point. The more they interact with you, the more likely they will see your stuff.
So, once you capture your "likes", start engaging your audience. One of the most important things to consider when creating a post for Facebook is to keep it short and sweet rather than lengthy. Save the diatribes for your personal page.
Be entertaining. Ask questions to increase interactions and don't be afraid to push the envelope a little with your humor if that's part of your brand.
Get Set Up to Shine on Social with Post Café
With these tips, Facebook can be an amazing opportunity for small businesses to allow their brand to shine through. Of course, establishing trust, posting killer content and strategically perfecting your delivery also helps. Post Café provides the valuable content you need to make that connection with your fans on Facebook. Sign up today to start building your social status.