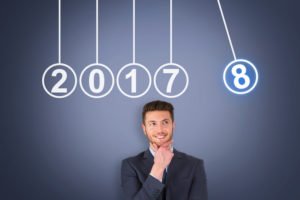 Closing the books on 2017 and heading into the New Year is as good a time as any to evaluate your social media marketing activity to figure out what's been successful for your real estate brand, and what could use some improvement. No time like the present to figure out how best to leverage all that social media has to offer to help you reach your goals for the coming year.
With that in mind, here are five social media marketing resolutions every realtor should commit to as we head into 2018.
1. Set Goals
It may sound obvious, but in order for your social marketing efforts to be successful, you need to establish what you are trying to achieve. What do you hope to accomplish through your social outreach?  While the ultimate goal is likely gaining clients and getting listings, how do you plan to make it happen? Are you working to build awareness and visibility for your brand? Do you hope to build loyalty within your existing client base? Are you trying to drive traffic to your website? Is growing your social following a priority?
Laying out exactly what you aim to gain from your social media marketing and defining how you will measure its success can go a long way towards getting you there.
2. Redefine Your Game Plan
Once goals are more clearly defined, you will likely find that you also need to fine tune your social strategy. If you have gotten by this far by winging it, it's time to develop—and stick to—an actionable social media strategy in the new year. In 2018, it is no longer enough to simply be present on social media. If it's going to be worth your while to invest any amount of time or energy in marketing your real estate brand on social media, you're going to need a solid strategy for defining who your target audience is, and how, where and with what kind of content you are going to reach them.
3. Learn New Things
Because social media evolves at such a rapid pace, there is always an opportunity to work something new and different into your mix. Feel like you've gotten the hang of Facebook marketing? Maybe it's time in 2018 to experiment with Facebook Live. Or, depending on the audience you are targeting, to consider creating a profile on platforms like Instagram or LinkedIn, and investigating best practices for sharing content that will resonate there.
Along the same lines, just because you've gotten comfortable on a platform doesn't mean you have to stick with it forever. Resolve to trim the fat in 2018 and abandon any platforms or strategies that are falling short so you can free up time and resources to try something new.
4. And Make One of Them Video
Digital video had its biggest year yet in 2017. Video content drove more than 70% of all Internet traffic in the past year, and Cisco projects that number to grow to about 82% by 2021. Video consumption likely makes up the majority of the time your audience spends online, so resolve to give them what they want in the new year–information that's entertaining or informative and easy-to-consume—so they'll be more likely to stick around to connect with it.
Not sure where to get started? Here are five easy ways realtors can leverage the power of video marketing on social media.
Get the Most Out of Your Social Media Marketing Resolutions
All too often, as realtors struggle to manage all the responsibilities of running a successful real estate business, sticking with a consistent schedule of social media posting becomes a near-impossible task. Resolve to offload the responsibility by looking into a service like Post Café, which not only automates the posting of content to all your social profiles, but even writes the original real estate-focused content for you!
Post Café can help you leverage all that social media has to offer your real estate business, while allowing you the freedom to focus time and resources on your business. Give us a call at 732-218-9377 to learn more about how to put Post Café to work for you.