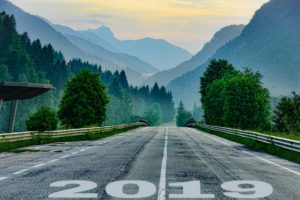 The world of social media marketing changes quickly and often. As we head into 2019, now is the perfect time to assess your current social media strategy to make sure it's ready for success in the new year.
Four Tips for Social Media Marketing Success in 2019
Have a game plan
It may seem obvious, but having a clearly defined and documented social media strategy is core to any brand's marketing success, and it's a crucial first step that is often overlooked or passed over by busy marketers.
Whether you've been driving without a roadmap until now, or your existing social strategy could simply use a refresh, resolve to take the time before the new year to identify your brand's primary goals for 2019, and to figure out the best and most impactful way that social media can help you to achieve them.
Embrace content marketing
Content has become one of the best tools marketers have for achieving any variety of goals they may have for their business. Sharing useful and engaging content that your audience will want to read and engage with can help you to not only build trust within that audience but also to build awareness for your brand, to drive traffic to your website and, perhaps most importantly, to generate qualified leads.
If you've not yet worked a content marketing strategy into your overall social media marketing plan, 2019 should be your year! It's time to commit to investing the resources needed to create a content plan that will open the door to a two-way relationship with your audience on social media.
Put your audience's needs first
The social landscape is a crowded place, and it's only getting more so in 2019. That means whatever you're sharing needs to be good! For social media content to be useful, it should present real value to your target audience of current and potential customers.
What does that mean?
It means taking some time as we head into 2019 to zero in on what your audience might actually want from you and then delivering it, in the form of content that's useful, informative or entertaining. Social media marketing is not about pushing your own marketing message; it's about forging a relationship with current and potential customers by giving them what they need.
Get your message seen.
The best social media messaging won't do anything for your brand if no one can see it. But that doesn't necessarily mean you need to be constantly churning out posts on every social media channel available to you.
Rather, it pays to spend some time looking at your social media data to see which channels are actually performing best for you. Which platforms seem to be most popular with your current customers and your target audience? On which platforms do you see the most engagement from your audience? Which messaging or type of content seems to resonate most with them? In 2019, resolve to focus on the platforms that perform best for you, and to use them most strategically to achieve your goals.
The start of a new year is the perfect time to assess your current social media marketing strategy and to make changes to set yourself up for success in 2019. Post Café can help. By writing and posting the valuable content your audience wants to see, we offer an affordable solution to any brand resolved to build and maintain a consistent social media strategy in 2019.