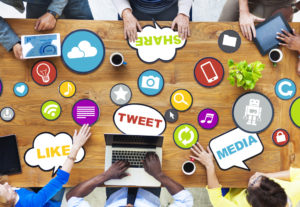 In recent years the housing market has made great strides. Maybe you were there for the crash of 2008 and you're just beginning to see the light of day. Or, maybe you're brand new to real estate and stories of the Big Crash have you wondering if you made the right career decision.
Truth is, real estate's recovery has been so great, that there has never been a better time to be a realtor. This is great news, but it also means that your A-game just got a dose of reality – you really need to "bring it" if you want to stand out in the crowd.
It used to be that agents placed ads in the local papers or took out 30-second commercial slots on the local cable station – all in the hopes of generating word-of-mouth advertising.
Today, the best form of publicity is still word-of-mouth, and today's best way to achieve word-of-mouth sales is through a jaw-dropping presence on social media. While you probably already have social media accounts, you might not be presenting yourself in a way that will help you see a return on your time investment.
Design, live, and breathe your brand identity
A lot of businesses assume that their brand name will bring the recognition they seek. While your brand's name is a necessity, a full-fledged profile is essential. A profile that highlights your expertise will help put your information in the hands of buyers.
This brand identity helps your potential clients discover reasons they'd want you on their team. If you don't put a lot of thought into this, it will show. Establish your online identity as an agent and you will see people become attracted to you.
Place your identity on multiple platforms
You have a Facebook page dedicated to your real estate business. Nice graphics, good content, and maybe even a professional headshot. Great! But – is that the only place you're visible?
Only having a Facebook account for your real estate business is like only taking out one ad in the local newspaper – and it ended up on the back page. Utilizing Twitter, Instagram, LinkedIn, and various other social media channels will help solidify your brand, boost your ranking in the search engines, and provide a clearer picture of who and what your business is all about.
Why? Each social media channel is used differently. On Twitter, while they have lengthened the characters for tweets, you still have a short space in which to say something witty – short and sweet can really grab attention. On Instagram, you can post pictures of homes you're selling, or pictures of your cat stuck on the screen door – both show who you are, what you do, and, best of all, that you're human!
Establish and grow your presence on social media
We know it can be time-consuming to come up with good content to share on your social media channels. And you're already on a tight schedule. Worry not!
There is a tool that automates the content sharing process on multiple social networks that can help establish you as an industry leader in your space. It's called Post Café.
And most importantly all expertly written articles will have your name and contact info next to them and will live on your custom ForSaleGuides.com domain.
Want to find out what Post Café can do to help market your real estate business on social media? Give us a call at 732-218-9377.