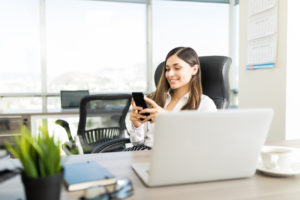 With a social media landscape that grows more crowded every day, it's more important than ever to make the kind of real estate social media posts that will get your business noticed.
Here are our experts' top 5 picks for the type of real estate social media posts you should be doing. These will build trust with your audience, promote awareness for your brand, drive social engagement and ultimately, bring in the leads that you are seeking.
Listing posts
If it seems obvious to recommend that a real estate professional post their listings on social media, that's because it is. With such an overwhelming percentage of potential buyers launching their search for a new home online, social media presents the perfect opportunity to reach them. But you have to do it correctly.
Instead of simply copying and pasting the link and description for a property's MLS listing to your social pages, get creative! Post photos that might not appear in the home's official listing—images that will grab a user's attention and entice them to learn more. Highlight a unique feature of each home you post—perhaps a beautiful backyard, a lavish master bathroom or a well-appointed closet.
Remember, too, that you're not limited to strictly posting photos and captioning them with the relevant details. Vary your delivery method to get your audience interested with video clips, narrated Facebook Live tours, Boomerangs or Instagram Stories.
Neighborhood posts
If you specialize in selling homes in a particular neighborhood, chances are, you're incredibly knowledgeable about that neighborhood. Show your expertise by showing off the community. Make social media posts that highlight what makes the area you specialize in unique.
You'll not only sell potential buyers on the area and provide them with insight into the neighborhood—you'll establish yourself as an authority on the community.
What's more, if you make social media posts spotlighting a particular business within your local area, they just might return the favor with a social media shout out for you, potentially getting your brand in front of a whole new audience.
Behind-the-scenes posts
Giving your social following some 'insider' insight into what goes into your life as a realtor can go a long way towards building a relationship with them. Share content that give users a sneak peek at what you do—perhaps before and after photos of a living room that has been professionally staged, or a video of the preparation that goes into getting a home ready for an open house.
Don't be afraid to show your personal side from time-to-time on social media.
No one expects you to be working 24/7. Sharing well-chosen photos that show what you like to do when you're off the clock (think family-time, hobbies, volunteering, etc.), can also you form a more emotional connection with potential clients.
Trendy posts
Capitalizing on topics that are trending in the media can be an easy and effective way to keep your real estate social media posting fresh. Similarly, incorporating posts about holidays and the 'National Day' that might be trending on a given date can also be a fun and interactive way to keep your audience engaged.
Just remember to be selective and focus only on events or items that you are able to make relevant to your business or your audience, and that present your brand in the best light. Don't forget to hashtag!
Informative posts
Potential homebuyers are, as a whole, hungry for any information that will help them on their purchasing journey. Show potential clients you know your stuff and stay connected with current and past clients by sharing the industry-related content they want to see.
A service like Post Café can help. We create and automate the sharing of relevant and engaging real estate content that will help you build a strong social media reputation and establish yourself as a trusted expert.
It's more important than ever that real estate professionals establish—and maintain—an active presence on social media. Post Café can help by writing and posting the engaging social content that will get you noticed. Give us a call at 732-218-9377 to find out more.