Here at Post Café, our goal is to give busy real estate professionals an effective and affordable way to maintain and grow an active social media presence for their brand. Never ones to rest on our laurels, we are constantly seeking new ways to wow our subscribers with the features, functionality and competitive advantage that Post Café membership offers them.
With that in mind, we are excited to announce that change is brewing at Post Café!
New Post Café Updates
Below are details of the two newest features now available:
1. Streamlined registration/login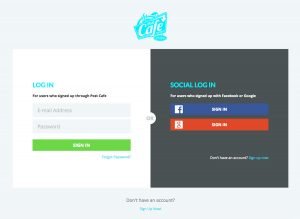 In an effort to save our subscribers from the trouble of creating another account and remembering yet another password, we have streamlined the registration and login process on our site. Now new users can sail through the Post Cafe registration process by using their existing Google or Facebook accounts to sign-up for a Post Café account. Each time they visit thereafter, subscribers can login to the site using their existing account credentials as well.
2. Share your listings
We know our subscribers have success building their brands on social media by sharing the original real estate-related articles that Post Café creates, and appreciate having the ability to customize the messaging that accompanies each of these articles when we post them to their social media accounts. They also enjoy the freedom of knowing the content marketing end of their social media efforts is covered.
But, we also wanted to give them the ability to share other relevant information, like their listings and open houses. Post Café subscribers can now share links to their listings, open houses, or any other events.
If you follow a content calendar (and you should), the content you are posting to each of the social platforms you are on varies in terms of topic (local news, expert advice, new listings, information about open houses). Now busy realtors can turn to one place (Post Café!) to manage their social media marketing as a whole by supplementing the posts they already receive from Post Café with their own mix of local news, listings and open house information and any other online content they care to share with their social media audience.
Build Your Brand With Post Café
Our mission at Post Café has always been to provide busy professionals with an effective and affordable way to manage a strong online reputation and stay top-of-mind with their audience. We're thrilled to offer these two new features that make it easier than ever for real estate professionals to build their brands on social media. Call 732-218-9377 to learn more about what Post Café can do for you!