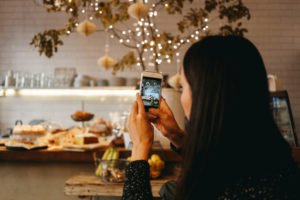 Of all the social media platforms that real estate professionals can (and should) be using to market their brands, there is arguably none as perfectly suited to the real estate industry as Instagram.
Why Instagram for realtors?
Everyone's On Instagram
With about 800 million users, Instagram is second only to Facebook in terms of popularity. As a mobile-based application, users access Instagram on their mobile devices—and recent data reveals that the average U.S. consumers spends upwards of 5 hours per day on mobile!
Visual Platform; Visual Industry
Instagram is a platform where your success is largely dependent on the quality of the images you share. Here, more than on any other social network, the pictures (and videos) tell the story. While many marketers struggle to come up with share-worthy images, real estate agents have this one in the bag! Just by doing what they do, realtors have access to an almost limitless supply of compelling photos that their audience is eager to see.
Best Place To Get Engaged
According to a recent study, brands are currently getting three times more engagement from their marketing efforts on Instagram than from similar activity on Facebook. Instagram's unique, user-friendly layout and slick yet simple interface have made it the best platform to engage audiences.
How realtors can make Instagram work for their brand
You understand the why, but not quite there yet on the how? Here are 10 ideas to help realtors make the most of the marketing opportunities that Instagram offers:
Instagram For Realtors: 10 Tips
1.Think Outside The Box
Think outside the box when it comes to listings. Of course, posting images of listings is a no-brainer on Instagram, but get creative! In addition to professional photos that a user can find elsewhere online, snap some interesting angles of your own from your smartphone. Create a 'virtual open house' by narrating a video walk-through of a new listing, or post images of a home's best features to Instagram Stories.
2. Humanize Your Brand
Customers choose to do business with brands they connect with, so tell your story by sharing glimpses into your daily routine and posting 'behind-the-scenes' photos to allow the audience to really get to know you.
3. Don't Be Too Human
It's one thing to let people take a peek behind the curtain, but take care not to overshare. Before you make a more personal post, ask yourself if the photo and messaging are on-brand.
4. Be Genuine
The most engaging posts on Instagram are usually the most authentic, so you don't need to be a trained photographer or cinematographer before you can press 'share.' Be professional always, but don't feel the need to be perfect.
5. Be A Digital Tour-Guide
Instagram gives you a chance to establish yourself as an expert in the local area you represent. Feature images of local businesses, restaurants, events and activities (and be sure to tag them.)
6. Keep It Simple
One of the most appealing things to Instagram users is the platform's ease-of-use and simplicity, so don't over-complicate things with too much text or clunky captions.
7. Stay Away From The Hard Sell
Instagram users love the visually compelling environment of Instagram, and have little tolerance for overt self-promotion. Aim to engage rather than sell, or you'll see your reach and engagement take a nose dive.
8. Ride A Trend
If there's a holiday or event that's trending and you can figure out a way to make it apply to your brand, go ahead and jump on the bandwagon. Just take care not to force the fit—it's okay to let 'National Elephant Appreciation Day' pass you by!
9. Use Your Link
While Instagram posts aren't 'linkable', you do have the one link in your profile. Change it out when you make a post to drive people to a Post Café article you've posted to other social channels, or to your website for additional information on a listing.
10. Have Fun With It
One of the reasons Instagram is so wildly popular is its entertainment factor. Allow your brand's personality to shine through no matter what you post.
Build Your Brand With Post Café
Need help navigating the opportunities that social media marketing offers real estate professionals? Post Café helps busy realtors build their brand on social media by creating the real estate content your audience wants to see, and posting it to your social platforms for you. Call us at 732-218-9377 to learn more about how to put Post Café to work for you.