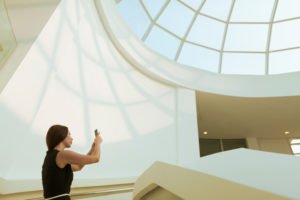 Are you marketing your real estate business on Instagram? As the fastest-growing of the social platforms, Instagram boasts more than 500 million active users on a daily basis. Many of the characteristics that attract users to Instagram are the same traits that make the platform so well-suited for realtors looking to grow their business on social media—Instagram is relatively simple-to-use, it is engaging and most importantly, it's highly visual.
Whether you are looking to refresh your existing presence on the platform, or you are ready to branch out into uncharted social media territory for your real estate brand, one of the best ways to find social media inspiration is to check out the pages of other realtors who are already doing it right.
Here's a look at the Instagram accounts of 3 real estate professionals from which you can draw some inspiration. Each is utilizing the platform in a different way to highlight their brand, connect with their audience and ultimately, grow their business.
What this realtor is doing right:
Profile concisely tells the user who he is and how best to get in touch with him
Consistent use of Instagram layouts to create collages to maximize the number of images of a listing he includes in a single post
Informative captions include all the important details
Selective use of hashtags to help grow following and attract engagement
Periodic posting of real-estate related inspirational quotes and holiday posts to add variety to his feed.
What Would Take It To The Next Level?
The only thing that seems to be missing from this active Instagram feed are clues about the realtor's more personal side. We'd love to see him connect with his audience by sharing a sprinkling of posts that show a more about the human behind these great listings.
What this realtor is doing right:
Creation of professional-quality video and photography to showcase properties
Descriptive captioning to capture the user's attention while providing the necessary information
Consistent use of a unique branded hashtag to make posts more easily searchable
Periodic posts providing behind-the-scenes looks at the realtor's life outside of real estate
What Would Take It To The Next Level?
This realtor is obviously representing some incredible properties, so we'd love to see more of them! She might consider including additional images using the multiple photo function on Instagram for people who may not be giving her videos the attention they deserve.
What this realtor is doing right:
Posts that provide a peek behind the curtain by revealing what life as a realtor is really like
Lighthearted approach makes her content relatable and entertaining
Selection of funny quotes with simple graphics that are engaging and sharable
Real-time interaction and responses to comments or questions to make followers feel like they are part of her journey
What Would Take It To The Next Level?
A realtor's Instagram doesn't have to solely offer real estate content in order to be effective, and this agent's profile proves it. But since she's been so successful in growing an engaged following for her account, we'd love to see her take the same upbeat approach to sharing details about listings every once in a while.
Get inspired on social media with Post Café
Post Café puts social media to work for your brand, so you are free to focus on real estate. Give us a call at 732-218-9377 to learn more about how your business can benefit from our groundbreaking service.