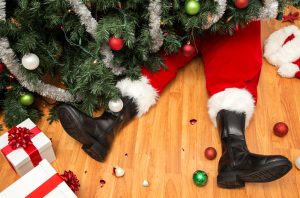 We're hoping you've already dusted off the summer sand from your social media calendar and started crafting ideas for end-of-the-year holiday marketing campaigns. But, if you're like many entrepreneurs, you're probably wearing many hats, which means you could be stuck in a vicious cycle of frantically posting day-to-day content…struggling to keep up. And before you can Google "Holiday Marketing for Realtors," Thanksgiving will be over, the holidays will be here and 2017 will be looking you straight in the face. OK. OK. Take a deep breath…don't freak out just yet. We're here to help.
Holiday Marketing For Realtors: 3 Simple Content Marketing Strategies
Real estate agents can take advantage of the holiday season by implementing a few strategies that will not only inspire current homeowners and encourage buyers through their home search, but also attract new clients. Add these unique real estate content holiday marketing strategies into your social media mix to finish off the year strong and start the new year even stronger.
Offer up some inspiration for current homeowners. Help holiday shoppers make gift-giving decisions by providing ideas in a gift guide for the home. Gifts they can give, and gifts they can put on their own wish-list. The sky's the limit, so get creative.
Be the go-to resource for your customers on all the information they're looking for on trending products. This time of year, people spend more time researching brands and comparing product features than any other time of year. Answer their questions before they have a chance to even ask them. Share informative industry-related articles and position yourself as the expert.
Feature local services that have great reviews and partner with other nearby small businesses. Partnerships with other businesses will help spread awareness about your own brand to a new audience.
Reflect the season and remind clients that you're not just a business. Personalize your social posts with holiday themed virtual tours, optimize marketing materials to be reminiscent of the season and simply remind your audience that you're a real person who really cares.
Looking Ahead into 2017
Realtors who manage their social media channels effectively and communicate with their target audience year-round have a much more successful impact on consumer behavior. Plus they can positively influence sales. Make a goal to stay consistent with communication efforts, to build a strong relationship with clients throughout the entire year.
So whether your clients are ready to make a move in January or in June, you're sure to stay top-of-mind throughout their entire home buying journey.
Ramp Up Your Real Estate Content Marketing Strategies on Social Media
Just think about Santa. Do you really think he pulls off the biggest night of the year by himself? Everyone knows that his elves work hard all year in the toy factory to make the magic happen. So, it seems you, too, may just be needing something. A simple plan and some support.
Your content marketing strategy shouldn't be a last-minute scramble in October, but if it feels like that, we're here to help.
Even during the hustle and bustle of the holidays, managing your social media posts should be the easiest part of your marketing strategy, especially if you use a tool like Post Café. Post Café customers are able to manage all the content they need for Facebook posts from one convenient resource.  We write all the content, we post it to your social account, and you're credited right on the article. So simple, you'll wonder why you didn't sign up sooner.
Just see for yourself:
If you're unsure how to get started or feeling overwhelmed with all your holiday season to-do's, give the elves at Post Café a ring at 732-218-9377 to learn more.
Grab your free downloadable template of a Social Media Content Calendar for Realtors today!