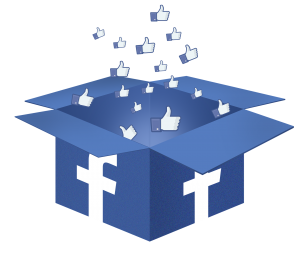 Campaigns, check-ins, cost-per-click…reactions, impression and reach. Oh My! Whether you're a novice to social media or an experienced Facebook user, it's easy to get confused with all the different industry lingo. Understanding the difference between terms like "total reach" and "organic reach" can definitely have an impact with your Facebook marketing strategy which is why our team of experts have put together a list of 30 helpful Facebook terms you should probably get familiar with using.
About Section: This section contains basic information that'll help your audience quickly learn about your Facebook Page. Different types of basic information will appear in your Page's About section depending on your Page's category.
Account Settings: Manage basic account preferences such as your name or email, change your notification preferences, turn on extra security features, etc.
App: Generally created by third parties that add more features and functionality to a Facebook experience.
Badge: Create this personalized box to share your Facebook profile, photos, or Page on other websites.
Boost: Want to appear higher in the News Feed? Boost your post to the right audience! You choose what you want to boost, how long and how many people you want to reach.
Campaign: This is a level within the structure of a Facebook ad. The structure is as follows: Campaigns > Ad Sets > Ads. Ad sets and ads exist within a campaign. At the campaign level, you're able to control a campaign's objective, such as Page likes, video views or app installs.
Check-in: Encourage your customers to "check-in" at your place of business because when they do, their friends will see it in their News Feed!
Cost Per Click (CPC): Cost per click for all clicks on your ad. The amount you're charged each time someone interacts with your ad. Your total charges are based on the amount you spent on the ad divided by all clicks the ad received.
Cover Photo: The larger picture at the top of your Page should visually represent your brand.
Chat: Send instant messages to your customers through this instant communication tool.
Daily Active Users: This metric shows the number of people who have viewed or interacted with your Facebook Page on a specific day. It's categorized by the type of action they perform.
Event: Organize events, gather RSVPs, respond to invites, and communicate to the attendees through the Events page.
Fans: Your Facebook "fans" is another way to refer to the people who Like your Page.
Follow: Personalize your own News Feed to get the types of updates you want to see regularly.
Friend: Connect and share with "friends" on Facebook to invite them to like your page.
Groups: Connect with specific groups of people of similar interests.
Impressions: Impressions are the number of times a post from your Page is displayed, whether the post is clicked or not. People may see multiple impressions of the same post.
Like: Likes and Interests allows you to refine your ad's target audience based on what they've included in their profiles, as well as the Pages, groups and other things on Facebook they've connected with. This includes sections like interests, activities, favorite music, movies and TV shows.
Messages: Similar to private email messages can include text chats, photos, videos or a gif.
News Feed: Your News Feed is a constantly updating list of stories in the middle of your homepage. It includes status updates, photos, videos, links, App activities, and Likes from the people, Pages, and Groups you're associated with.
Organic Reach: Organic reach is the number of unique individuals who saw a specific post from your Page on their News Feeds, tickers, or directly on their Pages.
Page Views: Page views are the total number of times your Facebook Page was viewed during the time period you select.
Paid Reach: This is the number of unique individuals who saw a specific post from your Page through a paid source like a Facebook Ad or Promoted Post.
Page Roles: There are five different roles for people who help manage Facebook Pages including: admin, editor, moderator, advertiser, and analyst.
Reactions: Reactions is an extension of the Like button, designed to give people a more nuanced way to share a response to a Facebook post quickly and easily. Users can choose from: Like, Love, Haha, Wow, Sad, and Angry. Advertisers who want to see a breakdown of Reactions can do so in their Page insights only.
Tagging: When you tag a person, Page, or place to a status or photo, you'll extend the reach of that post.
Ticker: Check out the right side of your Facebook homepage and you'll notice your friends' activities in real-time. You can use it to keep up with the latest news as it happens, listen to music with your friends, or hover over a story to join in the conversation.
Timeline: Your Timeline is where you can see your posts or posts you've been tagged in displayed by date. It's also part of your Profile.
Viral Reach: Viral reach is the number of unique individuals who saw a specific post from your Page through someone else's post.
Video Views (10-Second): This shows the number of times your video was viewed to 10 seconds. If your video is less than 10 seconds than this refers to the number of times people viewed 97% of your video. Video Views (30-Second): This shows the number of times your video was viewed to 30 seconds. If your video is 30 seconds or less, then this refers to the number of times people viewed 97% of your video
Connect with Your Audience with Post Café
Now that you have a general overview of some of the most used Facebook Terms used for business Pages, you might be feeling overwhelmed. We can help with that. Let us help you put some additional oomph behind the posts you share to really connect with your audience. The social media experts at Post Café will brew up the content you need to make your Facebook Business page shine above the rest! Check us out at www.postcafe.com to get started today.